Teammate Training
We strive to provide continuing teammate education, training, mentoring and regular review processes for all our employees. In addition to our general education efforts, we also:
Provide apprenticeship programs for many skills including: Pipefitter, Craft Laborer, Millwright, Carpenter, Heavy Equipment Operator and Ironworker. Our apprenticeship programs are paid and require 3 to 5 years to complete.
Provide in-house training via Methuen University classes offered in a number of areas: trades certification (i.e. pipefitter, welder, hoisting), construction finance, OSHA 10 certification, wastewater treatment, estimating, building math, computing training (i.e. MS Office).
Provide training for teammate advancement including a comprehensive Leadership and Management program.
Provide a safety mentoring program where Teammates earn an Orange hardhat under the direction of a supervisor or foreman.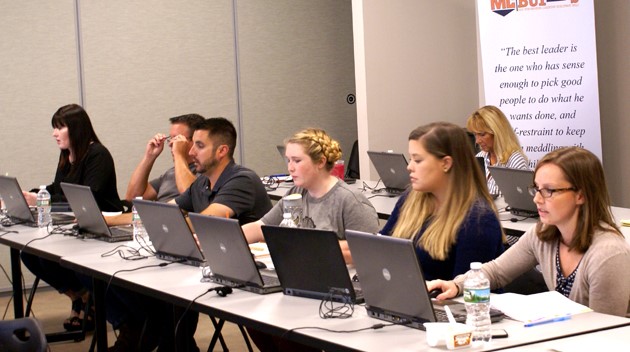 Methuen University
The mission of Methuen University is to facilitate learning and improve individual, team and organizational performance. We believe that an investment in Teammate development is also an investment in the future of Methuen Construction. We are committed to supporting the professional and personal development of all Teammates, and empower our Teammates to develop their knowledge, skills and abilities through various opportunities offered by Methuen Construction.
In 2018, to further our commitment to the learning and development of our Teammates, Methuen added a dedicated, in-house Training & Development Specialist to our team. See below for a sampling of past training opportunities presented through Methuen University!
General
Safety - Full range of Safety related training
Scheduling
Grade and Layout
Contract Law
Time Management
Project Management
Surveying Auto Layout
Rigging
Instrumentation
Negotiating to Win
Management Courses
Water/Wastewater process
Blueprint Reading
Construction Quality Management
Financial Operations
MS Office Programs
Welding
Scheduling
Basic Control Systems
Dale Carnegie Leadership Training
Multi-tasking
Mentoring and Coaching
Leadership
Multiple Workshops
FLIC Class
Future Leaders courses
Field Leaders courses
Apprentice Programs
Equipment Operator
Laborer
Pipefitter
Ironworker
Form Carpenter
Millwright
Methuen University also provides intensified learning tracks across a wide range of trade disciplines and individualized Career Paths for Teammates interested in visualizing their future career opportunities within Methuen Construction.