Leading with Safety - Safety Recognition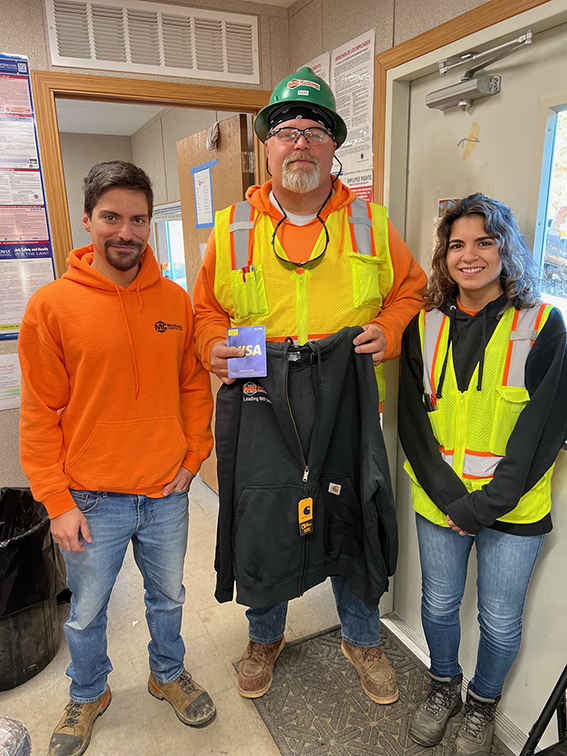 Teammate Sean Kelliher received Methuen's Safety Recognition Award for his continuous commitment to safety. Sean received a Carhartt hoodie and a $200 gift card as a thank you for his efforts.
Fellow teammates shared the following about Josh:
"Sean is always leading by example and looking out for the safety of others. If we have excavation activities onsite, Sean makes it a point to ensure a daily excavation form has been filled out and is discussed. Sean will also help preplan and ensure the appropriate protective system for trench safety is in place. He doesn't have a problem voicing his concerns regarding safety and provides input during the daily activity plan meetings."
"Sean is not afraid to speak up when he observes someone demonstrating an unsafe behavior or if he feels a task hasn't been properly preplanned or discussed. We can always rely on Sean to safely perform a task and regardless of who is onsite Sean will always do the right thing."
"Sean has always proven to be a leader in safety and has an overall understanding of all safety-related issues and adjustments that happen throughout the workday. As an operator he is digging around live utilities, working near traffic, and working in close proximity to other teammates. Sean is very aware of his surroundings and capabilities of the equipment whether it is a large excavator or a lull."
Please join us in thanking Sean for his commitment to safety and congratulating him on this honor!