Peirce Island WWTF Receives ABC National Excellence in Construction Pyramid Award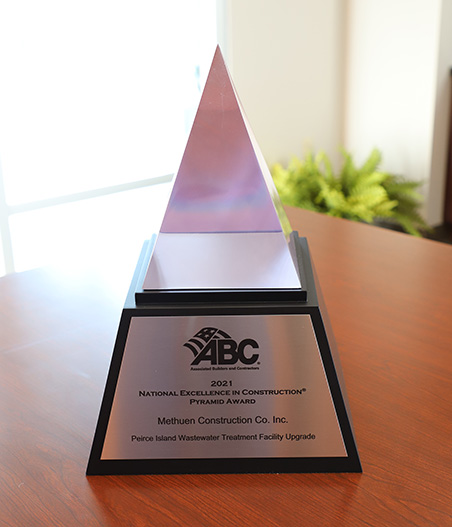 Methuen Construction received the 2021 Associated Builders and Contractors (ABC) National Excellence in Construction Pyramid award for the upgrade to the 6.1 mgd Peirce Island Wastewater Treatment Facility (WWTF) project in Portsmouth, NH. The EIC awards are the construction industry's leading national competition that honors general and specialty contractors for world-class, safe and innovative construction projects from across the nation.
The EIC award honors all construction team members, including the contractor, owner, architect and engineer. The winning projects are judged on complexity, attractiveness, unique challenges overcome, completion time, workmanship, innovation and safety.
A panel of industry experts served as the competition's judges. This year's judges included representatives from the Smithsonian Facilities Construction Division, Construction Management Association of America, Engineering News-Record, Design-Build Institute of America, University Research Institute and various construction-related firms nationwide.